Babysitters in Central and Western District
Central and Western District
39 babysitters matching your search
I'm happy to serve as a nanny, babysitter or household I all around work any them I can handle, this is my job here in hongkong, I takecare 3 children's since born 2012 until now,..
Certificate of No Criminal Conviction (CNCC)
HK$150.00/hr
我叫姚姚,英文名Yiki ,是個很喜歡小朋友的人,較為年輕,會更有精力照顧及與小朋友玩樂,適合一些想找年輕新一代保母的僱主,打破一貫傳統觀念的照顧方式。另外,我喜歡烹飪及製作甜品,可照顧日常起居飲食。 我還未婚亦沒有子女,但從小有照顧姊姊的嬰孩,在工作方面,亦有照顧過兩歲大、一歲大、半歲及兩個月大的小朋友,照顧方式各有不同,一般都會因應小朋友的需要和生活習慣,從而作出調整。個人對於小朋友比較有耐心和愛心,小朋友緣方面也不錯。
Average response time: 5 hours
HK$100.00/hr
I am very energetic, cheerful and caring. I enjoy having time with children. Grew up in the UK and Hong Kong. Mother tongue is Cantonese and also fluent in English and Mandarin. Have..
Originate from HongKong and Spain. Had experiences in providing English tutorial and child-care to both infant and young children. I'm a certified Cabin Crew with First-aid certificate...
Hello, 天水圍 Tin Shui Wai 我有兩個小朋友,有豐富的照顧小朋友的經驗。擅長陪他們一起開心的玩,並且可以教會他們很多的知識。能說普通話,粵語,英語。 I have 2 kids, and more than 3 years experience to look after babies. Play and teach them lots of..
Hi all, I'm Sema, the eldest daughter among 3 siblings and 14 cousins. As the eldest among all, I had the huge responsibility to look after and care for them. I currently act as a..
Hello! I am a Year Two University student majoring in Social Work. I love being with and taking care of children. Although I do not have babysitting experience, my kind and loving..
Average response time: 13 minutes
HK$100.00/hr
My name is Neena, I am 18 years old, and I am born and raised in Hong Kong, which makes this city my favorite place to be in. I have a lot of experience with younger children as I..
你好! 我雖然是一名零經驗照顧他人孩子的保姆,但我很喜歡和小孩一起玩,我比較健談、友善、主動、嗜動既姨姨,我有鍛鍊瑜伽可以教小孩子一起培養運動習慣,我是育有一名17歲多女兒的單親媽媽,所以由初生嬰兒至青年我都係富有經驗照顧。我期待能有機會照顧你的小孩子。你好! 我雖然是一名零經驗照顧他人孩子的保姆,但我很喜歡和小孩一起玩,我比較健談、友善、主動、嗜動既姨姨,我有鍛鍊瑜伽可以教小孩子一起培養運動習慣,我是育有一名17歲多女兒的單親媽媽,所以由初生嬰兒至青年我都係富有經驗照顧。我期待能有機會照顧你的小孩子。
你好!本人曾就讀香港李寶樁世界聯合書院,剛剛中學畢業,有讀IB及DSE的經驗。中,英口語流暢。本人有過向K3幼童及小學生補習,陪讀的經驗。本人有耐性,願聆聽,喜愛小孩子,望考慮~ Hi, I have just graduated from secondary school Hong Kong Li Po Chun United World College...
本人是2022 DSE考生,曾於補習社擔任補習導師,現有私補學生。本人待人有耐性,喜愛小孩子,願意學習各種新事物和照顧他人,亦希望藉着空閒的時間嘗試不同的工種以增加工作經驗和嘗試經濟獨立。本人現時為大學護理系學生,將來有志成為一名護士。本人能夠以廣東話,英文和普通話作流利交流,對待小孩亦十分有耐性,願意陪小孩玩遊戲,講故事和處理學業上的問題。 I am a..
I'm a mom of 3, love kids I have 17 years of childcare experience with babies toddlers to teens. I'm also a stay at home mom so I'm available most days of the week and I also have..
Average response time: 52 minutes
HK$100.00/hr
I love working with children and am comfortable with pets and assisting with homework. Experience sitting kids 3-12 years old. I'm available most of the week during mornings and evening...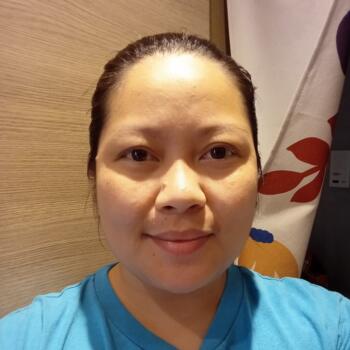 hi my name is Rose Ann from the Philippines but currently working in HK.i love to baby sitt and cooking.i am working here hk year 2012 to 2014 then i was rehired 2017 to present. i..
I love to play sports, sometimes even teach younger kids sports I like such as rugby, soccer or taekwondo. I have a younger brother of 7 year old and I've been taking care of him since..
---
---
Babysitter in Central and Western District wanted?
Find your reliable babysitter in Central and Western District here! We have 39 active babysitters in Central and Western District matching your search criteria. Babysits gives you the peace of mind you deserve as a parent!
---
Babysitters in large cities